92' Sloop 'Bristolian' Refit in Genoa
Hamble Marine Surveys have been appointed to supervise the refit of a 92' CNB Custom Sloop 'Bristolian'. After conducting a Pre-Purchase Survey on 'Bristolian' in Cannes back in April 2012 for her new owners, Julian Smith of Hamble Marine Surveys was asked to supervise the refit of the vessel in Genoa, Italy and inspect the Southern Spars carbon mast and rigging.
'Bristolian' ex. Mari Cha II was built by CNB in Bordeaux as a fast ocean cruiser/racer. She has been upgraded over time with the most significant upgrade in 2002 when the original aluminium mast was replaced with a Southern Spars 5 spreader carbon rig and boom. The standing rigging was also upgraded to Navtec rod rigging with a Kevlar backstay and a carbon forestay foil.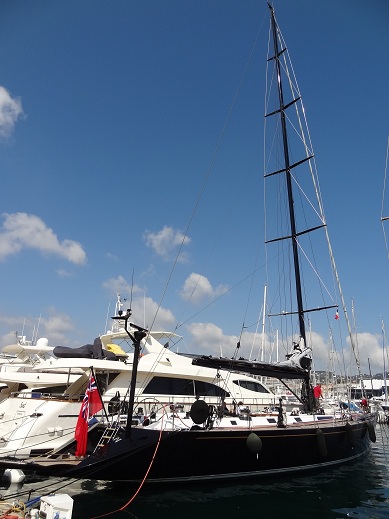 92' CNB Custom Sloop 'Bristolian'
As part of the on-going maintenance and upgrading of 'Bristolian', the new owners have decided to leave no stone unturned and have undertaken a comprehensive refit of the vessel's plumbing, electrical and navigational systems. Included in the refit the Southern Spars carbon mast and rigging was removed and fully checked. The mast was ultrasonically tested and all rigging tested for metal fatigue. All fixtures and fittings on the mast were tested and dismantled.
During the Ultrasonic testing of the mast two areas gave cause for concern with surface visible cracking and possible defects in the side wall joins. The mast was ground back in way of the side wall joins and re-tested. All results were passed to Southern Spars in New Zealand for their comments. The results proved encouraging with the cracking proving to be cosmetic and isolated to the surface coatings.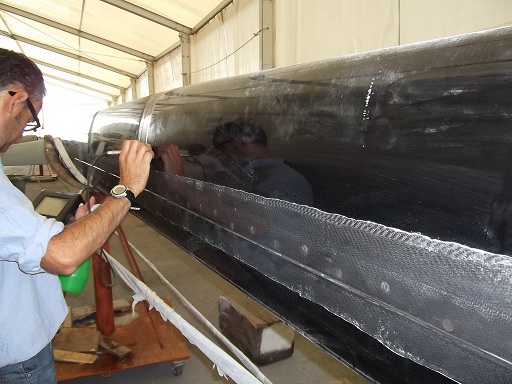 Ultrasonic NDT testing to the side wall join on 'Bristolian's' Southern Spars mast.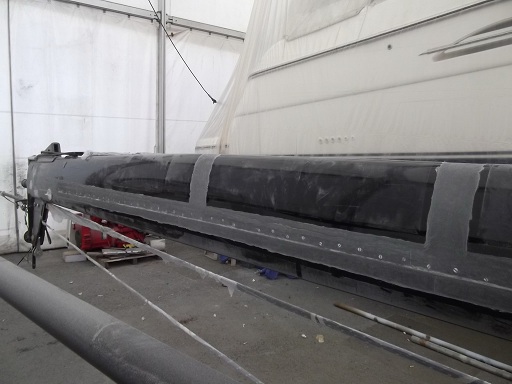 The upper section of the carbon mast ground back along the joint line for inspection and testing.
The refit is on-going with many of the plumbing systems being upgraded, Raymarine navigational systems being installed with KVH satcom systems and PC based communication systems.
Hamble Marine Surveys will be involved in supervising the re-stepping of the mast and seatrial.
Hamble Marine Surveys are Marine Surveyors, consultants and MCA Code of Practice inspectors. We are customer focused and pride ourselves on keeping things simple and working through problems in a logical cost effective manner. Contact us if you require our assistance whether on a 6m RIB or 30m custom yacht.