Hull Moisture Advice
Hamble Marine Surveys has recently completed another Hull Moisture Survey
This service is becoming popular for concerned yacht/motoboat owners who at the end of the year may find a blister or two or have deeper concerns about the state of their GRP hull. With coating system improving and the cost of epoxy treatments coming down owners are looking to the future.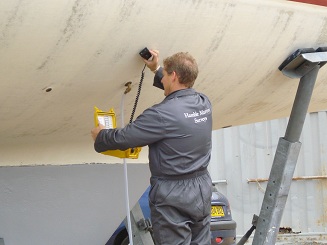 Using very accurate hull moisture measurement equipment we are able to provide an accurate assessment of the state of your hull and the moisture therein. By knowing whether the hull moisture readings are low, normal or high this will not guarantee anything, but it will give you as a boat owner a good idea whether drying-out time is needed or whether remedial action such as removal of the coatings and allowing the hull the dry-out over the winter could save you a small future in the future.
The survey takes 2-3 hours and then armed with this information you can then make decisions for the future.
Contact Hamble Marine Surveys for advice and a quote.